Caltex FAQs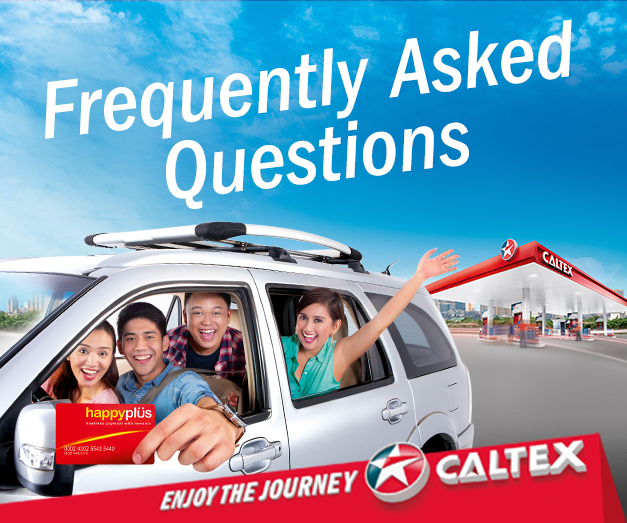 1. What is the Happyplüs-Caltex Tie Up?
– Caltex Customers with Happyplüs Card may  now earn  happypoints whenever they gas up   in participating Caltex Stations. Every ₱100 fuel purchase Caltex service station gives you one (1) happypoint. One (1) happypoint is equivalent to ₱1.

2. How do I earn happypoints in Caltex?
– Just present your Happyplüs Card to the Station Attendant when you gas up at Caltex.

3. How do I know I was awarded happypoints?
– An Official Receipt and Transaction Slip will be issued by the Cashier. The Transaction Slip has the Happyplüs Card Number and the total number of Earned happypoints.

4. How do I GET/REDEEM the happypoints I earned in Caltex?
– Cardholders may redeem their happypoints after 48 hours from date of transaction in Caltex. They may go to participating Jollibee, Chowking, Greenwich and Red Ribbon stores to redeem. The Cardholder needs to request for HP TRANSFER from the Cashier to transfer their earned points in Caltex to their card.

5. Is there a deadline to redeem my happypoints?
– There is no deadline to redeem the happypoints. Cardholders may just remember to redeem the points after 48 hours onwards and not the same day when fuel purchase was transacted.

6. Do my earned points expire?
– No. As long as your card is valid, you can use happypoints anytime at any participating store.


7. Where can I redeem my points?
– You can redeem the points at participating Jollibee, Chowking, Greenwich and Red Ribbon stores.

8. Is there a maximum limit in earning happypoints?
– Yes. Happyplüs cardholders will be given a maximum of 2 purchases per day, maximum of P3,000 per transaction. The maximum limit per fuel purchase is P20,000 per Happyplüs card. This is equivalent to 200 points.

9. What are the modes of payment I can use with the Happyplüs card?
– You can use cash, credit card, debit card, and StarCash to pay for your fuel purchase.

10. Can I pay my fuel purchase by using the happyload of my Happyplüs card?
– No. Happyload is not yet available for fuel purchase in Caltex.

11. Do I need to show any proof to the store when I redeem my happypoints?
– No. You just need your Happyplüs card to redeem. You can keep your receipt and transaction slip for reference.

12. I went to a participating store but the Cashier won't acknowledge my request. What will I do?
– Kindly call our Customer Service Hotline at (02) 8588-6000 so we can assist you further.