Happyplüs Online Card Renewal
You can renew your Expired Happyplüs Card ONLINE!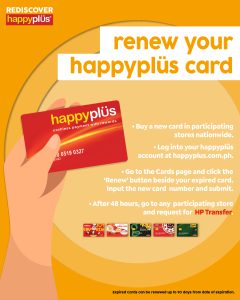 How to renew your expired happyplüs card online:
1. Buy a new Happyplüs Card for P100 at any participating store nationwide.
2. Visit the website at www.happyplus.com.ph.
3. Log in with your email address (Member's Registered Email ) as the username and kindly use your nominated password.
4. If you forgot or did not know your password, just click the "Forgot Password" option below the red 'Login' button. You will receive a link to your registered email address to set a new password and access your account.
5. Once logged in, go to Card Page and click the "renew" button,
6. Enter your 16-digit new card number and click submit.
7. The renewal process will take at least 48 hours to process.
8. Please wait for the SMS notification on your registered mobile number.
9. Visit the store and request for HP transfer on your new card to get your balance from your expired card.
Renewal Agreements:
– The cardholder agrees that his/her Happyload and Happypoints stated in the Cardholder's
  account are correct and can be transferred to their new Happyplüs card.
– Only new Happyplüs Cards will be accepted when renewing online and will be
  automatically registered in the account.
– Happypload and happypoints on the Expired card will be automatically forfeited if
  cardholder fails to renew within 90 days from date of expiry.
– Your old Happyplüs card may still reflect its card balance even if it's already expired
  whether renewed or not renewed within 90 days but the card balance will no longer
  be valid for use as the card is already expired.
– The Old Happyplüs Card will be tagged as expired in the Happyplüs Account of the
  Cardholder.
– Online Renewal can only be used for Happyplüs Cards that are already expired.
Happyplüs Card Terms and Conditions:
– "No card, no transaction" All happypoints and happyload transactions can only be
  used when the Happyplüs card is present.
– Card is valid for 3 years from date of purchase.
– Happypload and happypoints on card will be automatically forfeited if cardholder
  fails to renew within 90 days from date of expiry.
– The Happyplüs card is good as cash, if it is lost, all happypoints and happypload
  will be lost as well.
– To replace a defective card, surrender the card to the cashier counter of any participating
  store of Jollibee, Chowking, Greenwich and Red Ribbon. Damaged cards will be validated by
  H.O. and will be replaced for free if found defective within 15 days.
– A damaged card caused by cardholder's mishandling may be replaced with a fee of P100.
  Damaged card and the new card that has been purchased must be sent to H.O. for
  transferring of card balance.
– The Happyplüs program is not responsible for any unauthorized use of lost cards.
– The Happyplüs program deserves the right to amend or withdraw the privileges,
  promotions and terms and conditions without prior notice.
– Cardholder privileges cannot be enjoyed in conjunction with other on-going promotions
  unless specifically stated by Happyplüs program.