A Trip to Bohol can be yours!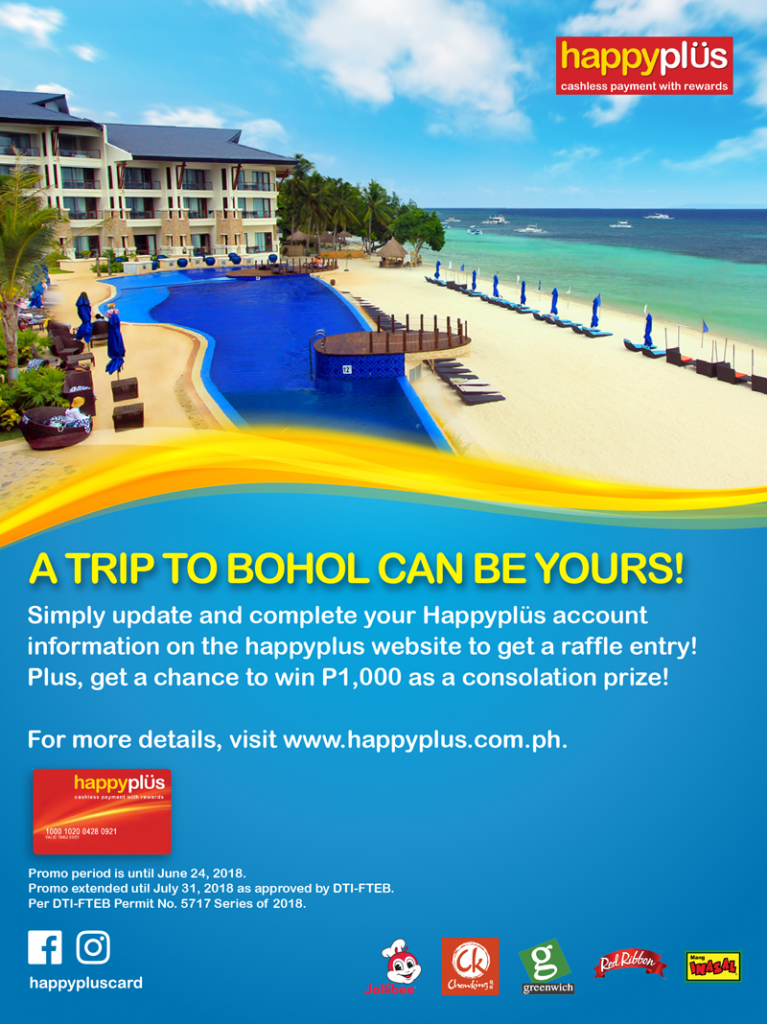 Update your Happyplus Account Promo
HOW TO QUALIFY:
1. Promo period is from April 11 – June 24, 2018 only. Promo is extended up to July 31, 2018 as approved by DTI-FTEB.
2. To join, cardholders must be registered and have an active happyplus card
prior to the promo period. Registered cardholders with expired
happyplus cards are not eligible to join.
3. Newly registered cardholders within the promo period are not included in the promo.
4. Existing cardholders would need to go to https://happyplus.com.ph,
login to their account using their registered email and password,
then go to My Account, and update their profile.
5. All fields must be properly filled up. Once completed and updated,
cardholders will automatically get 1 raffle coupon for a chance to
be one of three (3) winners for two (2) persons for a trip to Bohol
or be one of ten (10) consolation winners of P1,000 happyload.
* All other related travel expenses not included in the package shall be borne by the winner.
6. Package Includes:
3D/2N stay for two (2) at Bohol for 3 winners:
· 3D/2N stay for two (2), in Superior Room, at The Bellevue Bohol, Barangay Doljo,
Panglao Island, Bohol
· Complimentary round-trip economy class airfare for two (2) from NAIA Terminal
to Tagbilaran Airport, Bohol Airport to NAIA Terminal via Philippine Airlines
· Complimentary round-trip land transfers to and from Tagbilaran Airport to
The Bellevue Bohol
· Daily Breakfast
· Complimentary "Fascinating Bohol tour with lunch at Loboc River" inclusions:
o Aircon transportation
o Welcome drinks at Chocolate Hills
o Loboc River Cruising
o Lunch
o Sight-seeing tour to Bohol's best scenic spots
· Applicable government taxes and service charge
7. Raffle Conversion: Update of Happyplus Account Profile = 1 raffle coupon
8. Each participant can only earn one (1) raffle entry for the duration of the promo
9. Cardholders can check their qualification for the raffle by checking the progress
bar in the Edit Profile page within the specified promo period.
10. To be eligible for the draw, the individual must fulfill the following criteria:
· Must be a Philippine citizen or a permanent resident of the Philippines
· Must not be an employee of JOLLIBEE FOODS CORPORATION,
or any of its related partners for this draw, their relatives up to the
second degree of consanguinity or affinity and any other party who are
directly involved in organizing, promoting or conducting the draw.
11. Deadline of updating the profile is until July 31, 2018, 11:59pm.
12. The promo organizer's decision regarding the promo mechanics, winners and prizes,
with the concurrence of DTI, is final.
RAFFLE DRAW:
1. Promo is available for all registered happyplus cardholders before the promo period.
2. The electric Grand Raffle Draw will take place on August 6, 2018 (5:00pm) at the 23rd flr.,
Jollibee Plaza, F.Ortigas Jr. Ave, Ortigas Center, Pasig City, with the presence of a DTI
representative.
CLAIMING AND NOTIFICATION:
1. Raffle draw winners will be notified by HAPPYPLUS via SMS, registered mail, and e-mail.
2. Upon claiming his/her prize, winner must present the happysplus card, email and/or
registered mail, two (2) valid forms of identification or government-issued I.D.
(SSS, Unified Multi-Purpose ID, Driver's License, Voter's ID) and proof of citizenship
(valid Passport or Birth Certificate). All documents provided by the winner will be
verified by Jollibee Foods Corporation.
3. In case the winner asks a representative to claim the prize, the following additional
documents will need to be provided on top of the documents needed from the winner:
a. Authorization letter from the winner
b. Photocopy of the representative's valid identification (SSS,
Unified Multi-Purpose ID, Driver's License, Voter's ID) and proof of citizenship
(valid Passport or Birth Certificate).
*The winner's representative must also present original copies of the same
required valid forms of identification.
4. After the validation of the winner's documents, winners may book their trip
thru Happyplus via email at support@happyplus.com.ph with subject
"Happyplus Trip to Bohol winner – booking details",
names of the passengers and travel date.
5. Winner must book his travel plans at least two (2) weeks prior to his planned travel date.
Travel certificate is valid 12 months from issuance.
6. Consolation Winners of P1,000 may claim their prize at their
preferred participating store of JFC.
7. Prizes are transferable. Not convertible to cash.
8. Redemption period is until 60 days upon receipt of the registered mail.
Unclaimed prizes will be forfeited with prior approval of DTI.
Promo period is until June 24, 2018.
Promo extended until July 31, 2018 as approved by DTI-FTEB.
Per DTI-FTEB Permit No. 5717 Series of 2018.